(WBEN) Ask former Buffalo Bills coach Marv Levy about the cancer battle that Hall of Fame quarterback Jim Kelly faces, and predictably the coach will use a football analogy.

"He's getting his ankles taped right now and is going to be ready for battle," Levy says, adding that if attitude is everything, Kelly should have no real problem beating the cancer diagnosis announced Monday.
Hear Marv Levy on
Kelly's Cancer Fight



with WBEN's Tom Bauerle




Kelly says he intends to deal with the cancer found in his upper jaw bone much like the Hall of Fame quarterback has approached many of the challenges in his life. WEB EXTRA: Kelly's Cancer Diagnosis
"You have to confront them head on. And this is just another one," Kelly said Monday after revealing he's been diagnosed with squamous cell carcinoma.
Informed of the diagnosis two weeks ago, Kelly called the prognosis for recovery "very good." He said tests show the cancer is isolated to the jaw. Doctors plan to remove part of Kelly's jaw on Friday. It won't be determined until after surgery whether he will require chemotherapy.
"We caught it in time," the 53-year-old Kelly said. "It's just another challenge for me and I know I'll beat it."
Levy himself knows a bit about beating cancer and has lectured about his own battle with the disease.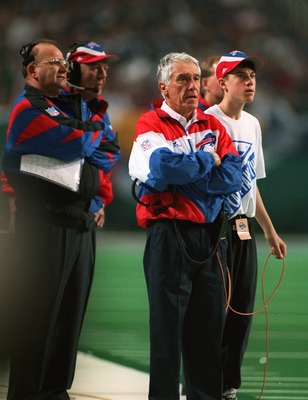 " I had prostate cancer. When the surgery took place they did inform me it was confined to one area, didn't spread. and that was fifteen years ago. And you keep getting re-checked and I was very fortunate, " Levy says.

" But the road to recovery? Yeah there is a fight back from it and state of mind is a very important element... and there is nobody, that can meet adversity... as well as Jim Kelly,"

Kelly spent 11 seasons with the Bills before retiring following the 1996 campaign, and has since made Buffalo his home. He was was the face of Bills teams that Levy coached, making four consecutive Super Bowl appearances in the early 1990s, only to lose them all.
Inducted into the Pro Football Hall of Fame in 2002, Kelly still holds nearly every significant career franchise passing record: 35,467 yards, 237 touchdowns and 26 300-yard games.

In 11-plus seasons, Levy posted a 112-70 record to become the franchise's winningest coach. He was inducted into the Pro Football Hall of Fame in 2001, and briefly left retirement to become the team's general manager in 2005 -2007.