(AP) Two men have been taken to a Buffalo hospital after one fell from the third deck of Ralph Wilson Stadium and landed on the other during the Bills' game against the New York Jets.
According to a Rural Metro ambulance service report, the man who was hit by the falling man sustained a head injury. The man who fell sustained a shoulder injury, which was not considered life-threatening.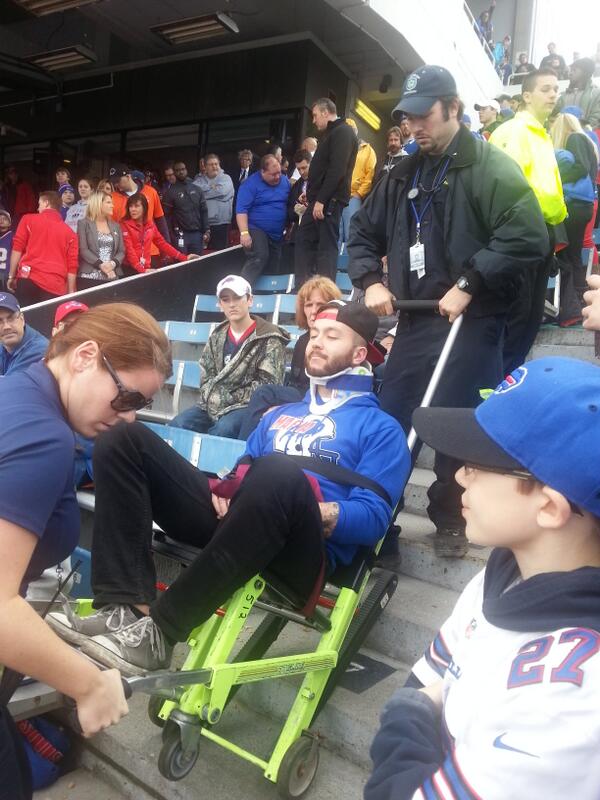 Both men have been released from the hospital.

The accident occurred during the second quarter of Buffalo's 37-14 win.

The Erie County Sheriffs said a report on the accident wouldn't be available until Monday.

The Buffalo Bills issued this statement:

"The irresponsible behavior that occurred at yesterday's game by the fan who fell from the upper deck is a violation of our Fan Code of Conduct and cannot, and will not, be tolerated. This individual will not be permitted back into Ralph Wilson Stadium. The vast majority of our fans who attend Bills home games at Ralph Wilson Stadium do so in a responsible manner and we continue to work diligently to eliminate those individuals who violate our Fan Code of Conduct from game days at our stadium. We are cooperating with the Erie County Sheriff's Office during their investigation of this incident and we want to extend our best wishes for a speedy recovery to the fan who was injured in the 200 level."

<< From Twitter, at left is a purported picture of the man who fell.

BELOW: The incident was caught on video and posted online to two different sites.

CBS inadvertently aired the incident in a wide shot from the far end zone,and another fan captured it on a cell phone


. (Warning: Video may be disturbing to some viewers.)

From CBS's Broadcast, via You Tube



---
A video of the fan falling, posted on Vine, can be seen below.